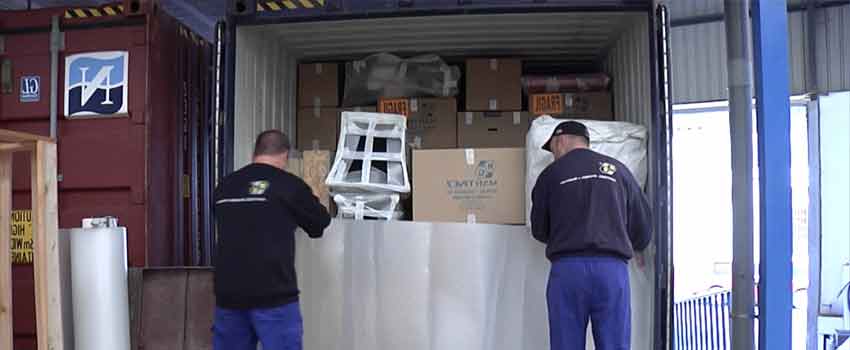 UK to Spain boxes and furniture delivery FAQ
In order to ensure that you are properly guided if you are looking to ship any items overseas, we have taken time to compile some of the frequently asked questions from our previous and prospective clients. The questions and answers contained here will help to clear your confusions if you have any. Take time to go through the shipping to Spain FAQ so that you will not make any mistake. If you have any questions you would like to ask please send us an email. We will publish the answer on this page.
How do I obtain a quote for shipping to Spain?
There are many international furniture delivery companies in the UK that offers international shipping services from the UK to Spain and the other way around. Whether your delivery is sudden or not, you will surely find a freight forwarder that will provide you with quotation as soon as you request it. However, it is advisable that you start your search for shipping costs to Spain from the UK at least 12 weeks ahead of the stipulated date the transport. In fact, some experts recommend that you start searching for a quote once the date for your shipment is known. There is the tendency for some people not to search for delivery costs until the last minute. It should be one of the first things that will top your UK to Spain shipping checklist. There are many websites where you can compare sofa, double bed, wardrobe, bookcase, dining table, garden furniture shipping to Spain and save money.
How much is shipping to Spain from UK?
There are a number of factors that will determine the shipping costs. Such factors include the final destination, the volume or weight of your items and other services that will be rendered if any. Before an accurate quotation is presented to you, our international shipping experts will come to your home to access your property in order to determine the cubic volume of household goods you want to take. They will also have a discussion with you about your needs in case you have special needs. You can ask them any question you like during the discussion or assessment time. They will prepare a comprehensive quote based on their assessment of the volume of your items and the discussion they have with you. Once the survey has been completed we will tell you how much is shipping to Spain.
Do you offer packing and unpacking services for international transport?
As an old time player in the industry, our UK to Spain cargo shipping companies offer packing and unpacking services as well as other international freight forwarding related services like storage for example. However, unless you hire our full export pack service, you will have to pay extra money for packing and unpacking services. Our full export pack services include international packing and unpacking services and it also comes with extra benefits like more physical protection of your items and increased goods in transit insurance coverage.
Can I pack my items by myself?
Yes, you can do the packing yourself. We do not compel our clients to hire our international packing services. However, if you prefer doing the packing by yourself, you should ensure that you use the right sizes of cartons and other packing materials. The cartons should be well labelled to avoid misplacement of items and for easy unpacking.
Will it be more affordable if I do the packing by myself?
Yes, it will be cheaper for you to pack your items by yourself however we will not be able to provide the insurance. In case any damages you will not get any compensation.
Do you offer furniture dismantling service?
Yes, we do. We have well trained packers who are proficient in handling any type of furniture. We also provide them with all the necessary tools to make dismantling easier and safe. However, if you want to us to handle your furniture dismantling, it is important that you inform also earlier so that the cost will be included in your UK to Spain shipping quotation.
Can I dismantle my furniture by myself?
Yes, you can. But you should only do that if you know how to go about it otherwise you will end up spoiling your furniture.
Is it more affordable if I do the dismantling?
Yes, it is cheaper if you do the dismantling by yourself.
Can I pack other items in my car?
Yes, Custom formalities do allow that. If you are shipping a car to Spain, you are allowed to pack household items and items that are related to the car inside it. Typical examples of such items are first aid kit, fire extinguisher, warning triangle, spare tires and any other replacement parts and any furniture you can fit in.
How do I know the status of my shipment?
Once your items leave the UK, we will appoint one of our staff to be your shipping manager and keep you posted with the progress and status of your shipment. In most cases you can also use our online tracking tools to find out about the status of our consignment.
What happens at the final destination and how will my items be delivered to my home?
We are a reliable and reputable international shipping company providing services to various countries across the globe. In each of the countries we provide shipping services to, we have overseas partners who carry out delivery services to our clients. We don't just work with any agent in the final destination. We only work with the best UK to Spain shipping companies to ensure that we provide quality services to our clients. Once your personal belongings and household goods arrive at the final destination, our shipping agent will take care of the clearing and then contact you to schedule a delivery date with you. The boxes and furniture will be delivered to your home on the date you agreed with our agents. They will provide you with able bodied men that will unload your items from the truck to your home. If you want unpacking and disposal services, you can discuss with them. They will carry out the service according to your requirements or as instructed.
What's the shipping time to Spain from UK?
This differs from country to country or it depends on the distance to be covered. Some countries will take more days or weeks than others because they are more remote than others. It will also depend on the means of transportation you opt for. If you go for airfreight to Spain from the England, Wales, Scotland or Ireland for example, you may get your shipment within 24 hours or even within some hours depending on the distance to be covered. But international shipping to Spain via the high ocean takes a few days or even a couple of weeks. For example furniture delivery to Spain from Glasgow, Edinburgh or Aberdeen by road will take longer than shipping from London, Brighton, Liverpool, Manchester, Leeds, Birmingham or Nottingham. International transport by road to Spain is also fast but it all depends on the distant to be covered. Below are the time-scale for sea shipping to Spain and to some other countries from the UK for our door-to-door services: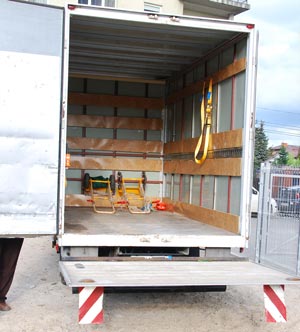 Full container services
South Africa 6-7 weeks
Australia 7-8 weeks
New Zealand 7-8 weeks
USA East Coast 4-5 weeks
Canada West Coast 5-7 weeks
Canada East Coast 4-5 weeks
Shared container services
Australia 10-12 weeks
South Africa 8-10 weeks
New Zealand 10-12 weeks
USA East Coast 8-10 weeks
Canada West Coast 6-8 weeks
Canada East Coast 6-8 weeks
Will my shipment get to my house unopened?
This depends on the type of services you opt for and also on the destination of the shipment.  Shipping house content to Spain in most cases goes without inspections. If you hire our full sole use 5ft, 10ft, 15ft or 20ft shipping container services, your consignment will be delivered to your home unopened. But if you hire our shared container services, the shipment may be tempered with as other goods in the container are offloaded. In some countries, the custom officials are given rights to inspect all items imported into the countries. For example, in Australia, all items are quarantine for some days before they are released to the owners. Our oversea partner will take care of the delivery of your goods. In other words, custom inspection is not within our control whether you hire full container or shared container loading services.
Should I be present in Spain for the custom clearance?
This also depends on the country of the delivery. There is no customs or taxes to be paid when shipping to Spain a bed, wardrobe, chest of drawers, side table, living room table, chairs, garden furniture, TV, Computer or other household goods and personal effects. If the customs regulations of the country of delivery do not require your presence, then our international partner will take care of everything. Your move manager will tell you whether your presence is required or not.
Shipping insurance - are my goods covered
Our reliable UK to Spain shipping company may be covered by public liability insurance as well as vehicle insurance. We provide shipping insurance coverage for sending furniture to Spain as well as to the UK and other European destinations. However, you have to pay for the coverage. The cost of shipping to Spain furniture and costs of the coverage is stipulated in your quote.
Shipping quote to Spain
As soon as our well trained professional visit your home and assess your properties, a UK to Spain shipping quote will be prepared and send to you within 24 hours. If you request for the furniture delivery quote through telephone, you will get the quotation also within 24 hours after the telephone conversation. In most cases on the phone we will be able to give you just approximate shipping costs to Spain from UK. Average prices are not fixed and are subject to the site survey.
Which shipping agents handle my consignment in Spain?
We have different overseas agents in Spain and across the globe. However, we do not choose them at random. We only go for the best international freight forwarders to ensure that our good records are not soiled by any person. All our overseas partners are registered members of FIDI or OMNI. Some of them are also accredited by FAIMISO just like our business is.
What payment options do you accept?
We accept cash payment or payment by bank transfer, cheque or debit card. If you want to pay with a credit card, it is only acceptable at a surcharge. All UK to Spain shipping costs have to be paid before the delivery of goods.
Do you provide shipping boxes earlier?
Yes! We will ensure that you get proper packing boxes for cheap shipping to Spain books, porcelain, kitchen utensils, clothes, boots, mirrors, paintings, TV, computers, glasses, ornaments and electronic equipment in advance so that packing will be completed on time.
Do you offer shipping and storage services?
Yes! We offer both containerized storage and self-storage as well as shipping.
Where do you have your storage facilities?
We have storage facilities in our branches in the UK. Our shipping agents have warehouses in London, Abingdon, Manchester, Birmingham, Basingstoke, Bristol, Liverpool, Glasgow, Edinburgh and Southampton. For our international destinations, our oversea partners will provide that. As reliable and reputable shipping businesses, they also have storage facilities in the major cities in their various countries. Compare shipping to Spain costs!
Can I have access to my goods while in store?
Yes, but you have to give us a 48 hour notice if you hire our containerized services. If you hire self-storage service, you can have access to your items on daily basis but in accordance with our regulation. In the light of the above, containerized storage is suitable for people that may not have any need to access their items while they are in storage. Self-storage on the other hand is suitable for people that have a need to access their items more often while they are in store.
I hire the full house packing service, is there anything I should do?
Yes, you have to separate items you are shipping from those you will dash out or dispose of. You should also put together all items that will be in your carry-on bags or any items that should be with you during the course of transportation. Such items may include travel documents like passports, certificates and other important documents.
Do you ship pictures, mirrors, take down curtains and disconnect appliances?
If you require these services, we can offer them to you. However, you have to let us know during the property evaluation period so that the extra charges will be included in your boxes and furniture shipping costs to Spain from England, Scotland, Wales or Ireland. Note that disconnections of electric appliances require special technical knowledge and thus we do not advise you to handle it by yourself.
Do you ship chest of drawers and wardrobes full?
No, you are required to empty your drawers and pack all the items they contain inside cartons. If you hire our packing services, we can do the packing for you. Shipping wardrobes, bookcases, side tables or chest of drawers to Spain from the UK full is not accepted. Items inside the storage units will get damaged or will damage the furniture you are shipping.
Do you reassemble furniture at the final destination?
Yes, but only if the furniture is included for dismantling. You will find detail information about this in your quotation. Always let us know if you want us to include dismantling in our furniture delivery costs to Spain. We can provide different services as options so that you can compare the shipping costs to Spain with and without the packing, cleaning, dismantling, boxes supply etc.
I hire full pack service but I have pre-packed boxes, will your packers unpacked them?
No, our packers do not repack pre-packed boxes. They remain packed even with our full pack services. However, in accordance with our terms and conditions, they have limited shipping insurance cover.
Do you ship pianos and other musical instruments to Spain?
Yes, we have the manpower and equipment to ship any music equipment to Spain including pianos, guitars, sound system equipment and any type of music instruments no matter the size and shape. Our cheap UK to Spain shipping companies can handle both grand and upright pianos. Contact us and we will tell you how much is the delivery going to be.
Do you transport cylinders of inflammable liquids and gases?
No, we do not ship any inflammable liquids and gases as well as cylinders or containers holding them.
Are there any items that you do not ship?
Yes, there are items we would not ship to Spain. For proper guidance please email us to check the list of items that can not be shipped.
How much are custom fees?
If you are planning to ship to Spain household goods, personal effects, excess baggage only you will not have to pay any taxes. However custom fees differ from country to country. Once, we have known your destination, we will indicate the import tax rate in your quotation.
What is the delivery time to Spain from the UK?
If you want us to tell you how long does it take to get your goods delivered to Spain we will need to know the collection and the delivery addresses. The shipping time time will be different for transports to Spain from Glasgow to Madrid and from London to Barcelona. This depends on final destination as well as on the means of transportation. Full details about transit duration are made available in your quote.
Are all the members of your crew employed by your business?
No! We are a network of UK shipping companies. There is no 1 international transport company that employs 1000s of movers around the UK and Spain. Shipping firms work together to offer global coverage and make your shipping to Spain as cheap as possible.
Do you have any history of lost shipments?
No, since we started operation, we have not lost any items put in our charge.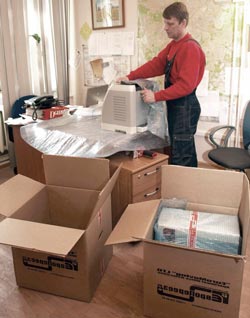 Is there any other fee to be paid at the port of delivery?
Shipping to Spain attracts some additional charges like ferry fees but those are included on our quote. Our quote contains all shipping costs you will be charged. There will be no extra unless you ask for an extra service. In some destinations or countries, there are some charges to be paid at the port delivery. For example, in Australia, you are expected to pay for quarantine inspection services. But in some other countries, there may not be any charge. If there are any other charge to be paid at the port of delivery, we will make that known to you in our quote.
Do you offer rubbish removal, disposal and de-cluttering services
Yes, before or after packing or unpacking your items, our crew will dispose rubbish for you. You will find details about this in your shipping quote to Spain comparison sheet. This services are only available for our clients that hire our packing services. The disposal and de-cluttering services must be discussed prior to the move. We also offer skip hire.
Are you flexible with your shipping costs?
We provide a competitive quotes based on cheap shipping rates to Spain. However, we can still review our quote on request. Our average shipping costs are very attractive.
Do you assign a shipping manager to keep me posted?
Yes, once we have a deal with you, we will appoint a shipping manager to keep you posted with the status of your delivery. Your international transport agent will answer all your questions in case you have any. He will be your point of contact with us.
Container shipping to Spain
We have part / shared container shipping services and full container transport to Spain. The Part container shipping also known as group-age delivery is suitable for people that are shipping few items or whose items cannot fill one container. Full container services are suitable for people shipping full 3, 4 0r 5 bedroom house content or lots of items or whose cargo will fill one container. Each option has its own advantages as well as downsides. While full container loading is faster, group-age is cheaper but slower. We offer 5ft, 10 foot, 15 feet, 20 ft and 40feet shipping containers.
What is full container loading?
Full container loading abbreviated as FCL is one of the cheapest ways of shipping furniture to Spain from the UK service in which one container is reserved for one client. Only the clients' items are packed inside the shipping container for the delivery. Different sizes of containers are used for this service. The right size of container to hire depends on the amount of items you are sending.
Part container loading
This is also known as shared container loading or groupage shipping. It is a type of international delivery service in which goods from different people are loaded in one container for shipment. The goods are first assembled in the loading location. They are labelled properly, palletised and shrink-wrapped or created so that there will be no misplacement of goods. Then, they are loaded in the container for shipment. Each person is charged according to the volume or weight of their items as the case may. Part container shipping to Spain is cheap and suited for smaller deliveries like excess baggage, 10 boxes, 100 cubic ft, 200 cb ft, 1 m3 and so on.
Shipping costs to Spain
The method of determining the approximate or fixed shipping cost to Spain from UK depends largely on the mode of transportation and the time of your relocation. Shipment via the high ocean or road is cost based on their volume. But if you are shipping your items via airfreight, it is charged by weight or volume whichever that is greater. Please speak to us to find our how much is shipping to Spain.
Are there any paper work to be completed?
Yes, you may be required to complete some documents such as inventory or packing list. Check the documentation section of our site to get detailed information about this. You can also contact us via telephone. If you choose our full relocation package our shipping agent will complete all document for you.
Can I track my shipment online?
That will depend on the mode of transport but in most cases you can find the status of your consignment online using our online tracking tool. Our system will also automatically notify you about the status of your consignment a week after your goods have been shipped. The notification will be sent as email to the email address you provided when you were completing application form. The email will indicate the name of the vessel carrying your consignment, the destination agent, the arrival date and any other necessary information.
Do you include custom inspect costs in your quotation?
No, we do not include such charges in our quotation as we are not sure whether or not the custom officials of your final destination will decide to inspect your consignment. If such demand is made, you will be charged for it. The additional charges, that will apply if such a demand is made, also differ from country to country. In some country, it will be higher than in other countries. Custom inspection can be done in the final destination or even here in the UK. When shipping to Spain you should not expect any customs, quarantine or thorough inspection.
What are fumigation costs?
As implicit from the name, it is the charge for fumigating your items to kill unwanted insects and pests. This is common in Australia and New Zealand. If your items are fumigated, you will pay for the cost of the fumigation and this is what is known as fumigation charges. Our expert will provide fumigation indicative rates so that you can take them in to account when preparing your budget for shipping to Spain.
Will my goods be packed inside of furniture by the crew?
No, our crew will not pack any goods into any furniture. If there are some loose items that require packing we will put them in shipping boxes or pack them adequately.
What is the delivery time?
This depends on the transportation method as well on the final destination. You will find a transit guideline quote within your general quotation. Sending boxes to Spain by air take just a few days, door to door container shipping between 1 and 2 weeks. It takes only 48 hours for sole use van transport.
Can I include foods and toiletries in my consignment?
This depends on the destination - yes if you are after Spain. Most countries do not allow the shipment of foods. You can include toiletries in your shipment as they are generally accepted. For better guidance on this, we will provide you detailed information about items prohibited in your final destinations.
Why do I need to buy your shipping insurance cover?
Shipment whether over the high sea, on air or via the road involves a lot of risks which are beyond the control of the UK to Spain shippers no matter how careful they are? Also, there is limitation on the freight forwarders' liability for loss or damage. In the light of the above, it is important that you buy our shipping insurance cover to protect your items against any risk or damage they will be exposed to during the transport. However it is not obligatory.
Can I make claims if my items are damage during the move but I didn't buy any insurance cover?
If we are liable or responsible for the damage, you can make claims. But based on the reason given above, your claim may be limited.
What should I do if my goods are damaged by the crew?
You have to report this to us. We will work out how to compensate you for the damage with our insurer. We are covered by public liability and vehicle insurance policy.
Am I allowed to ship alcohol?
Most countries allow shipment of alcoholic beverages. But there are some countries that do not allow it. If you want to ship alcoholic beverages to Spain it is allowed to do so and you will not have to pay any duty/tax on the beverage. Our professional, quick, reliable and cheap UK to Spain shipping expert will let you know whether or not alcohol importation is allowed in your final destination.
Do you offer temporarily storage service?
Yes
Are your shipping agents registered members of BAR?
Yes and no! Some of the shipping companies are BAR registered and some are not. Some of them are registered with FIDI or other shipping industry quality service assurance organisation.
What is the benefit of shippers being a BAR member?
It means that you are covered by insurance because it is one of the requirements of becoming a member. Secondly, it is an indication that shipping firms are reliable and reputable as there are strict requirements to satisfy before you can be registered with BAR. Only a few companies can meet these requirements. It also means that it is safe to handle over your property to them and make payment in advance as you will have somebody to fall to in case quality service is not provided to you. BAR is an acronym for British Association of Removers. It is a professional organization in the UK that provides accreditation for shipping companies. If you hire a registered member of this organization, you can make complaints to the body in case you feel you were not well treated by the company that rendered freight forwarding services to you.
Do you recycle boxes?
Yes
What mode of international transportation to Spain do you offer?
We offer cheap international shipping via air, sea and road.
Which transportation mode is the best?
All international transportation modes are good. Each has its own pros and cons. It is your needs that will determine which one is the best option for you. If you are confused about which option will suit you very well, you have to seek expert advice. Speak to our experts for guidance in this regard. We can always prepare a few options so that you can compare furniture shipping costs to Spain and decide if you want to send it by sea, air or road.
How do I book for your shipping service?
Check the booking page of our site for guidance. Alternatively, you can also call our number for guidance, use our online quote comparison form or chat to us online
I want to pack my items by myself. Can I make use of my own cartons?
Yes, you can make use of your shipping cartons to Spain. However, you have to ensure that you pack your items with the right type of cartons. There are some cartons that are not suitable for packing. For example, cartons for stereo, electrical devices and computer are not good for international shipments even though they can be used for domestic distribution.